Available in light weight foam or durable steel, Acoustic baffles are the ideal solution for reducing noise in a large open space building. They can be fixed directly to the soffit or hung from cables to the most effective height.
Contact our team today on (045) 891 887 / (087) 911 3326 for the best solution
Metal EKOBAF from Acustica integral offer a durable solution to ambient noise caused by ceiling reflections and reverberation in a premises.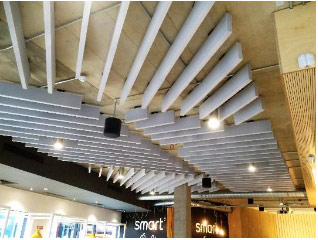 Pinta Linear is the answer to the rising demands for comfort in the modern office where exposed concrete soffits cause noise reflection. They can be fitted directly to the soffit using an aluminium load bearing profile.